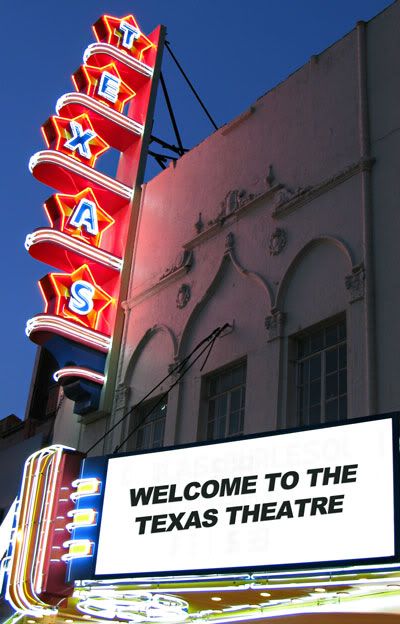 I have lived my entire life in Dallas, Texas. I have lived over half of it in Oak Cliff, Tx. Texas Theatre has always been in the background of my scenery and its only walking distance for me now. I never paid much attention to the run down theatre until it reopened very recently. It has a very rich history. Howard Hughes once owned the Texas Theatre. Lee Harvey Oswald was found there after he "allegedly" shot President John F. Kennedy. The history of this place is just awesome.
You can even watch a movie in the same spot (the actual chair was removed and the chair that replaced it) that Oswald sat in, if you are into that sort of thing. It's fifth seat from the aisle in the third to last row. Note to self: Take a picture in that seat next time you go.
I've had the pleasure of going to The Texas Theatre twice now and I must say I enjoyed myself very much. It is a quaint little place with an easy charm that you can easily fall in love with. A record player streams albums while you wait for the movie to begin and sip your wine. The selection is small but it's a work in progress and I like that about it. I do recommend cup holders but I can understand because the seats are vintage. I've seen two amazing films there in the past two months. I can't wait to tell you all about them but that will have to wait for later.
Have you been to The Texas Theater yet?